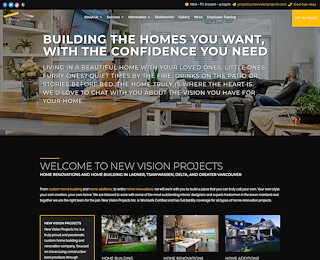 If you're tired of the look or ill-function of your kitchen, you may be considering a remodel or a renovation. A remodel can give new beauty to an older kitchen, while making it more enjoyable to spend time in. A complete renovation can totally revamp your entire kitchen space, changing its function and relocating or replacing appliances to create the kitchen of your dreams.
New Vision Projects is a leading contractor for kitchen renovations in and around Delta, providing affordable and professional renovation services in the home. There are numerous benefits that come with a kitchen renovation, many of which homeowners are not aware. Take a look at what a kitchen renovation can do for your Delta home:
- The financial benefits of performing a renovation in the kitchen are two-fold, making it one of the most cost-effective projects you could consider. Not only can installing new appliances lower your energy costs immediately, the long term advantages are even greater. No other room has the ability to increase your home's value in such a way that your investment can almost completely be recovered at the time when you sell your home. A kitchen renovation is a wise investment.
- Make better use of the space in your kitchen by allowing a professional to reorganize the floor plan. An expert from New Vision Projects can help you determine your actual needs, as opposed to what your kitchen is dictating to you. Hiring an expert for renovation can ensure that you have everything you need and want at your fingertips, while eliminating those aspects of the kitchen that you may not ever make use of. If you dream of owning a kitchen that is highly functional, a renovation can provide it.
- It is common in a home that designs that were once useful are no longer able to serve the needs of those living there. If you've experience a change in circumstances that have made it difficult to enjoy your kitchen, a renovation can be an affordable solution to the problem. Has your family size grown or reduced in number? When traffic flow in the kitchen or seating arrangements in the dining room change, a new floor plan is often necessary.
- Often, a family will purchase a home, only to find that the previous owner had different needs than they do. The set-up of the kitchen reflects that they were a light-duty cook, or a heavy-duty cook, that they needed an abundance of counter space, or very little. In order to create your own space, a renovation is often necessary to build around your individual needs.
New Vision Projects is passionate about kitchen renovations in the Delta area and are ready to help make your dreams come true when it comes to creating the kitchen you've always wanted. They'll work with you to build a place you'll feel great about calling your own. To learn more, visit online at newvisionprojects.com or call one of their experts at 604-690-1694.
kitchen renovations Delta